Tablet Press
1/17/2011 8:59:59 AM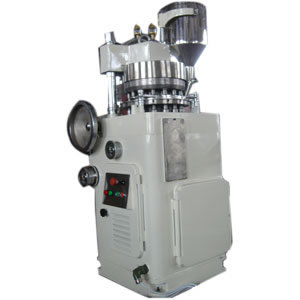 Tablet Press Manufacturer Supplier, Tablet Presses, Tableting Equipments, Allied Machines

Tablet Press Company, located in China is contract manufacturer & supplier of Tablet Presses, Tableting Equipments Allied Machines of internationally accepted standards.

Our mission is to provide turnkey solutions to quality conscious global clients. We have approved list of vendors who will manufacture Tablet Press and Tableting Equipments / Allied Machines as per our standards & specifications. We help our vendors to improve technology and product features.

We pride ourselves on consistently applying due diligence, high standards & excellent understanding of the value of methodology.

We are committed to quality maintenance, timely delivery schedules and adhering to buyers specifications.

We are exporting Tablet Press and Tableting Equipments / Allied Machines to the most demanding market of USA, Canada, Argentina, etc. The list of products we have offered here is only indicative and we are always adding more products.
2. Tablet Press MachineThe earliest tablet press machine is made up of one set of moulds, whose punches press granular substance into tablets through the upward and downward movements. This kind of machine is called single-punch tablet press machine. Later it was evolved into electrical basket tablet press machine. These two types of tablet press machine share the same principle of work that is one-side pressing ...

2. Ball Press Machine1. This machine has three main cylinders are mounted inside the frame, with two rapid cylinders on both sides of main cylinders respectively and one charging valve on the bottom of three main cylinders respectively. The ball press machine is a frame type hydraulic press.
2. The ball press machine has such functions as no-load rapid speed, automatic slowing-down while closing die, ...

2. Soup Cube Press MachineThe soup cube press machine specially designed for the chicken flavor tablet, it is suitable for round pieces, carved characters or other special shapes. It's used to press the powder into two layer tablets or three layer tablets.
1. This soup cube press machine is covered in stainless steel. It complies with GMP requirement. The inner tablet surface also ...

2. Mosaic Tablet Press MachineThis glass mosaic tablet press machine is specially designed for pressing glass mosaic tablets. This tablet press consists of the conveyor system and the feeding system. It can also be used as a pharmaceutical machine.
ZP25 rotary tablet press is intended for dealing with glass mosaic tablets. The whole machine is made up of the conveying ...

2. Powder MixerThe powder mixer is used for mixing powder or wet material to make the different ratio of materials mixed evenly. The contact part with material of powder mixer is made of stainless steel. The gap between the blade and inner wall is slim and there is no hidden corner during mixing. The stirring axis is fixed with sealing on both ends which can prevent material leaking outside. The hopper is controlled by buttons, ...
Welcome to Tablet Press Company
Welcome to Tablet Press Company
China
Tablet Press
,
Tablet Press Machine
,
Ball Press Machine
Manufacturer